Our Services
Serving Los Angeles County
Serving the communities of Torrance, Redondo Beach, Manhattan Beach, Carson, and San Pedro for more than 15 years, certified paralegal Fay Salahi Dean has the expertise you need when you need to prepare legal documents for a variety of family law matters. Fay will also assist in the preparation of legal business documents, such as those required for Corporations, LLCs, and DBAs. Call 310-944-9188, or visit Advanced Legal Document Center at www.advancedlegaldocumentcenter.com for more information about the services available.
Advanced Legal Document Center utilizes the paralegal skills of Fay Salahi Dean to help you properly prepare legal documents pertaining to:

* Probate Paralegal
* Divorce Paralegal
* Professional Paralegal Services
* Family Law
* Probate Law
* QDRO
* Living Trusts
* Deeds
* Paternity and Name Change
* Trust Administration
* LLC Documents
* Other Legal Docs. Prep.
About Us
Paralegal Torrance CA
At Advanced Legal Document Center, certified paralegal Fay Salahi Dean can help you wade through all the legalese.

PLEASE NOTE: Fay Salahi Dean is not a lawyer and cannot give legal advice, or represent you in court for any matter. If you do not know your legal rights in a situation, you will need to see an attorney.

However, if you know your rights; if you have already spoken with an attorney and you know what you want, you can be your own attorney and represent yourself. You can save time, money, and frustration and avoid the high cost of conventional legal fees.

Fay Salahi Dean works as an independent paralegal for Attorney Shahin Motallebi, she has been asked by many other lawyers for assistance throughout the years. Fay is skilled in helping attorneys prepare for court by providing research assistance and filing motions. Fay handles complicated paperwork every day, and is discreet, honest, and reliable.

As a family law paralegal, Fay has the experience necessary to help you understand and properly prepare legal documents for divorce with children/property and agreement, child custody/support/ visitation, spousal support, QDRO, name and gender change, and other family law matters. She is also skilled and trained in proper preparation of documents pertaining to wills, living trusts, deeds, probate, corporations, LLC, DBA, and much, much more.


When you just need help filling our legal paperwork and don't want to hire a lawyer, turn to paralegal Fay Salahi Dean. To schedule an appointment, and to get a free estimate, call Advanced Legal Document Center in Torrance, CA today.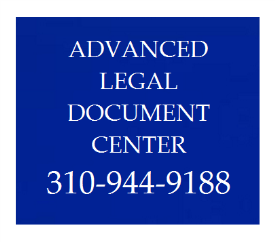 Paralegal Torrance CA
---
Business Hours
Mon
9:00 AM - 5:00 PM
Tue
9:00 AM - 5:00 PM
Wed
9:00 AM - 5:00 PM
Thu
9:00 AM - 5:00 PM
Fri
9:00 AM - 5:00 PM
Sat
Closed
Sun
Closed
Payment Methods
Master Card, VISA, American Express, Discover, Check, Cash